Hector, we'll be at your house in about 20 minutes. -Perfect, I'll be waiting for you! –
As we pull in, we discover that instead of a driveway, we have to drive the car onto an elevator. This is already very cool!
We drive onto the car elevator, the doors open on the fourth floor, and both Hector and his dog Vega welcome us. Vega is named in honor of Facel Vega, a French car manufacturer during the 50s and 60s.
At the entranceway, we find the walls full of pictures from the world of motorsport such as some original photos and plans of the engineers who designed the Bugatti EB110. Towards the back we find a Seat 1430, a Toyota Land Cruiser FJ40, a beautiful Alfa Romeo 1750 GTV (Hector's car), and a Lancia Delta Integrale. Leaning against the wall are a wide variety of pictures from his recent photo sessions. It's interesting that a special car appears in all of them. None of them feature a "normal" vehicle.
Only an extreme petrolhead like Hector can live in this house.
Hector defines himself as a true car enthusiasts from the moment he was born. He's someone who wants to not only live by and for cars, but to be able to share his passion with others and live that passion in the same manner. A good example are his "IfYouLikeCars" events, which always feature a surprisingly high level of cars that are difficult to rival by anyone else in Spain.
After studying car design in both Italy and England, he has been involved in several car design projects in Spain. Unfortunately none of them made it to production for different reasons. He continued his career with a 3-year stint teaching ​Car Design and Styling at ESNE (Escuela University of Design, Innovation and Technology). With this trajectory, his main goal was to design his own car, although he acknowledges that it's very difficult to achieve such a dream.
As we sit talking with Hector, there are several cars, including ours, parked in the living room. It still can't believe it. Who would park the car in the living room!? Well, Hector would, and we bet many of you would too! So it is inevitable that we ask why he chose a house like this. And the answer is clear, "for me, an ideal house is a house in which the car is integrated into it, because for me cars are the most important thing". We totally agree!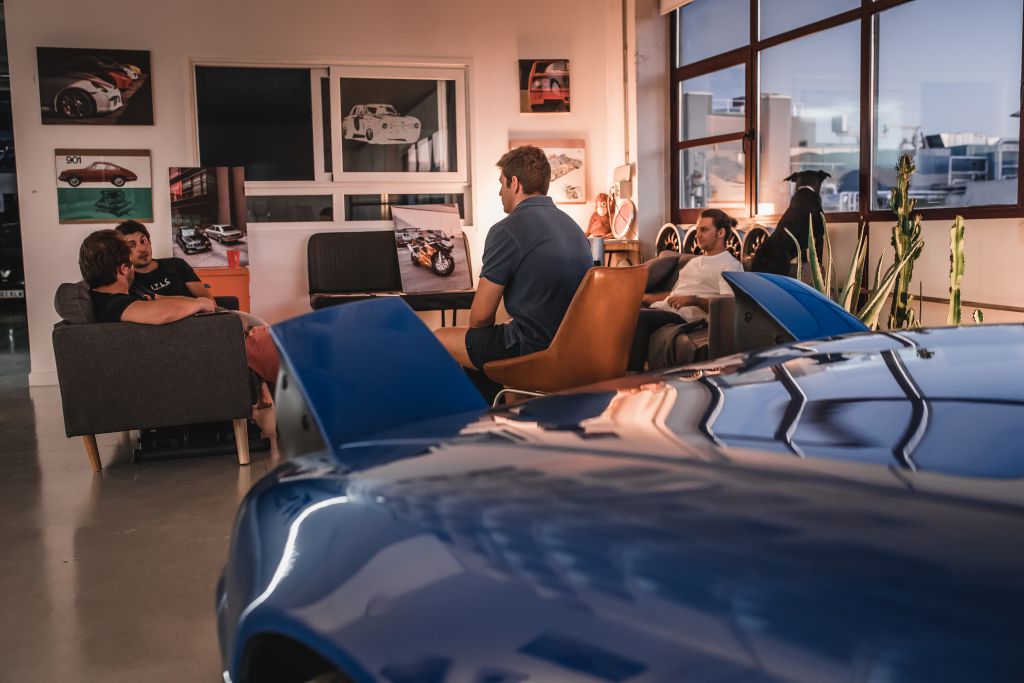 Apart from serving as a house, it is also his "headquarters". Here he not only lives but also stores cars, makes small restorations, performs comprehensive maintenance and care, polishes, makes ceramic treatments, repairs upholstery, paints tires… anything related to car care (you can check their works here).
Projects, projects, projects!
As we already mentioned at the beginning, most of us know Hector for being the creator of IfYouLikeCars, and although the events represent a dream come true, he is always working towards improvement. He wants to create a place where all petrolheads can meet and enjoy their passion. Among his ideas is to be able to organize a concour d'elegance, something that has never been organized in Spain, along the lines of a Villa d'Este or Pebble Beach.
But Hector doesn't make a living only from events. At the beginning we told you that the walls were full of pictures from photo shoots of various cars. He sells his photos through "nocarnoart", conducting personalized photo and video sessions, including a video of RoadStr that you can check out here.
But his work doesn't stop there, clearly! He's busy creating car advertisements, music videos, photographing the work at a restoration shop named Aerodesign Workshops, locating new locations for photography …
In short, his life is dedicated to the world of automotive.
Events and classics, classics and events.
We asked Hector to name his favorite events, and as a lover of classic cars, the answer was to be expected… He starts off with the Goodwood Revival, an event he has yet to attend, SIlverstone Classic, Donington Historic Festival, Le Mans Classic and within Spain, the now defunct Jarama Classic. All are classic races where more than just cars racing around a track, you see works of art in motion.
We thank Hector for not only welcoming us to his house for this interview, but for contributing to the culture of motorsport in Spain. He is always improving, and all that effort and passion is infectious as he wows us through his events, his photos, or simple discussions as pleasant as the one we had with him.